Warning: About the Phishing mail (May 12)
We have found some emails(phishing mails) trying to collect people's authentication information.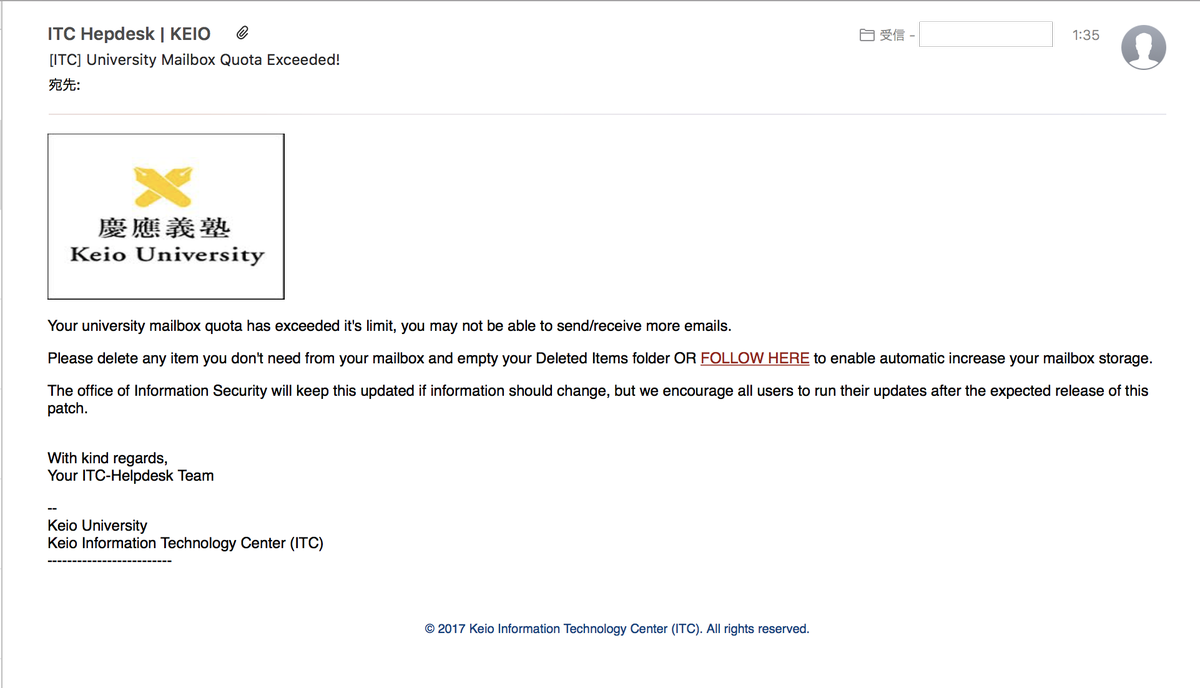 Subject: [ITC] University Mailbox Quota Exceeded!
Date:    Thu, 11 May 2017 09:15:55 -0700
From:    ITC Hepdesk | KEIO >j**.****e@u********en.be<
To:      ******@sfc.keio.ac.jp


Your university mailbox quota has exceeded it's limit, you may not be able to send/receive more emails.


Please delete any item you don't need from your mailbox and empty your Deleted Items folder OR FOLLOW HERE <http://itc-keio.gq/> to enable automatic increase your mailbox storage.


The office of Information Security will keep this updated if information should change, but we encourage all users to run their updates after the expected release of this patch.


With kind regards,
Your ITC-Helpdesk Team


--
Keio University
Keio Information Technology Center (ITC)
-------------------------


(c) 2017 Keio Information Technology Center (ITC). All rights reserved.

To these kind of emails, please make sure that you should not reply to it, or should not access to the mentioned URL. A third party might be trying to collect your authentication information. Once they got it, there are possibilities of your E-mail addresses to be misused or your private information to be leaked. Furthermore you might find your self involved in a crime.
To prevent things to happen, please be aware.
Last-Modified: May 12, 2017
The content ends at this position.