CNS network reorganization (introduction of filtering)
Overview
Currently, CNS (SFC campus network) almost unfiltered by ITC in order to facilitate free research and educational activities. Although security measures are supposed to be taken by each laboratory or organization, many security incidents have occurred due to recent increases in cyberattacks.
As a result, ITC will change filtering to several networks as described below. The network that will be filtered are designated as CNS-BLUE.
If you would like to use the same network policy as the current one (minimal filtering, with the expectation that each user will take appropriate security measures), we will create a new network designated as CNS-RED
Additionally, Open wireless network is dangerous from a security perspective, we will also apply the CNS-BLUE policy with some additional filtering tot he existing wireless LAN. Applications for unfiltered network access (CNS-RED wireless LAN) can be arranged by submitting an application to ITC.
Affected networks
CNS-BLUE/CNS-RED
CNS-BLUE
NW with Default deny policy and ITC equipment to

block all but specific communication ports with the outside world.

No individual port openings are accepted

(use RED if necessary).
BLUE policy will be applied unless otherwise requested.
Existing wireless LANs will be filtered with CNS-BLUE plus extra filtering.
Minimal filtering occurs for communications from inside SFC to outside SFC,

so traditional PC applications (Web browsing, e-mail, online meetings, etc.) should not be affected in principle

If you are operating a server for use outside of SFC, please check the details for each network and requests to users since you may be impacted.
CNS-RED
Same as the current network, minimal filtering/firewall

Security measures are taken by users

( (ITC only performs security monitoring)
Details of each network
CNS-RED wired LAN

Same as current LAN;

application required for use

CNS-RED wireless LAN (*keio.jp login required)

pplications will be accepted once the existing wireless networks are converted to CNS-BLUE policy (

planned from Aug. 15

)
Schedule
Starting July 4, 2022
Initial announcement to users (this document)
Begin operation of CNS-RED network

Add option for CNS-RED to online application system

CNS-RED migration period will be from July 4, 2022 to August 15, 2022 (planned)
From August 15, 2022 (planned)
Existing networks will be migrated to CNS-BLUE policy (including wireless networks)
Begin accepting applications for CNS-RED wireless LAN service
New applications for connecting devices to CNS will only support "CNS-RED" or "CNS-BLUE" as network options
Network jacks that are not in use and have not applied for equipment connection will be migrated to "Research building common network 1" or "Research building common network 2", and CNS-BLUE will eventually be consolidated into "Research Building Common 1" or "Research Building Common 2".
Requests to users (steps for migration)
First,

check which network you are using (including those for classes, etc.)

If you are using an IP address on one of the affected networks, it will be converted to CNS-BLUE, with filtering applied on 8/15 (planned).

Networks assigned via application for subnet are not subject to filtering, but the subnet may have a router located in one of the affected networks. In such cases, the subnet may be filtered as a result, so please apply for a new address if necessary.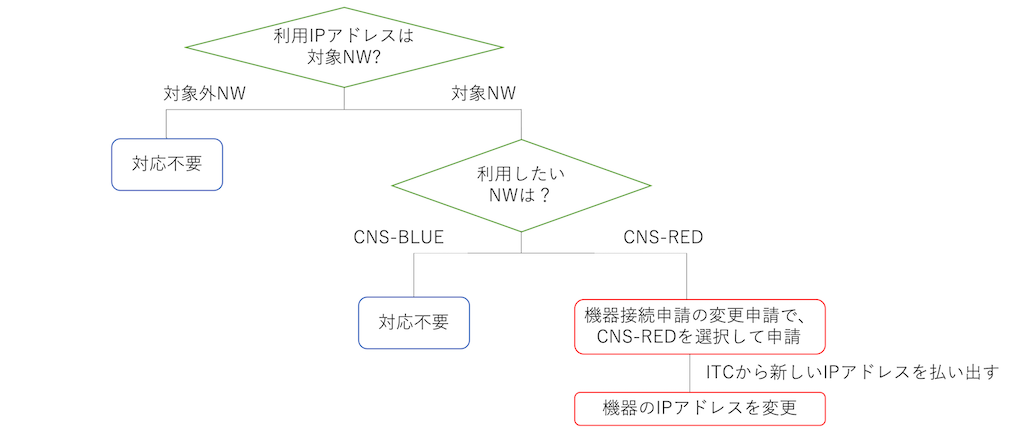 Last-Modified: August 17, 2022
The content ends at this position.