Basic Class Features (For Faculty Members)
Clicking on the class displayed in the card format on the dashboard will enable the settings for each class to be made.
Class (Course) Screen
The classes will be displayed as courses.Courses are established by creating, adding and assembling components (modules).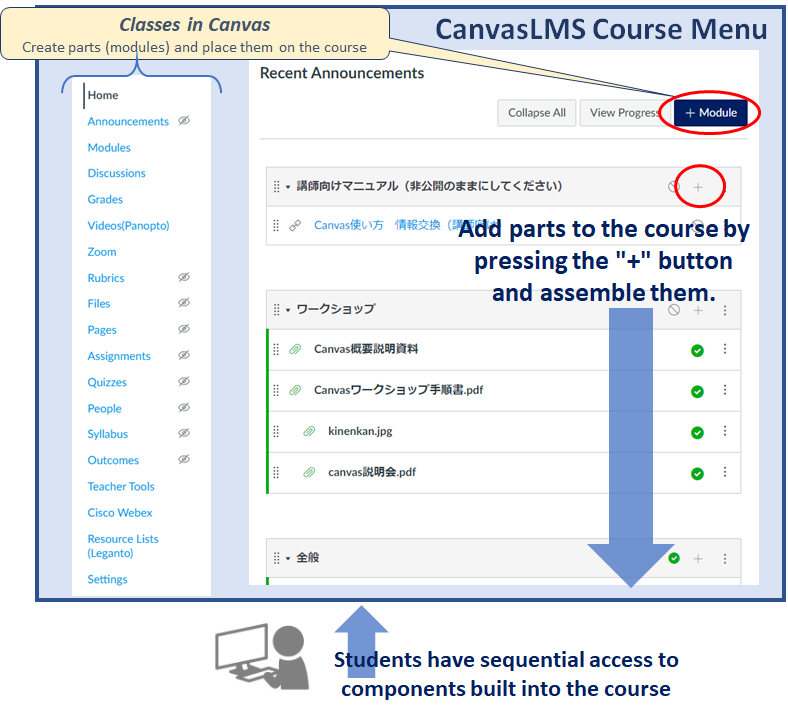 Common Canvas Operations (Modules)
In Canvas LMS, modules (a broad range of items: page making, educational material distribution, topic report making, quiz making, etc.) are used to establish classes (courses) by creating, adding and assembling these components.
Creating and adding modules can be done by setting them up with the use of common operations.
Click on the (1) [+] symbol located next to the class title that is to be added to each class course.


Clicking on (2) enables the type of module to be added to be selected.
The basic operations shown in 1. and 2. are used for all modules, including educational material distribution and topic making.

announce
This allows announcements to be created and all users in the course to be notified.It is possible to select that notification of the created announcement and replies to the created announcement are received with the notification settings.
Create and post teaching materials (page)
Checking the Layout as Seen by Students
In order to check the overall status of the classes (courses), click on [Home] and then click on (1) Attending Student View.

Only the modules that have been made public will be displayed.
(2) Click on the title of the pages, etc., that are to be checked.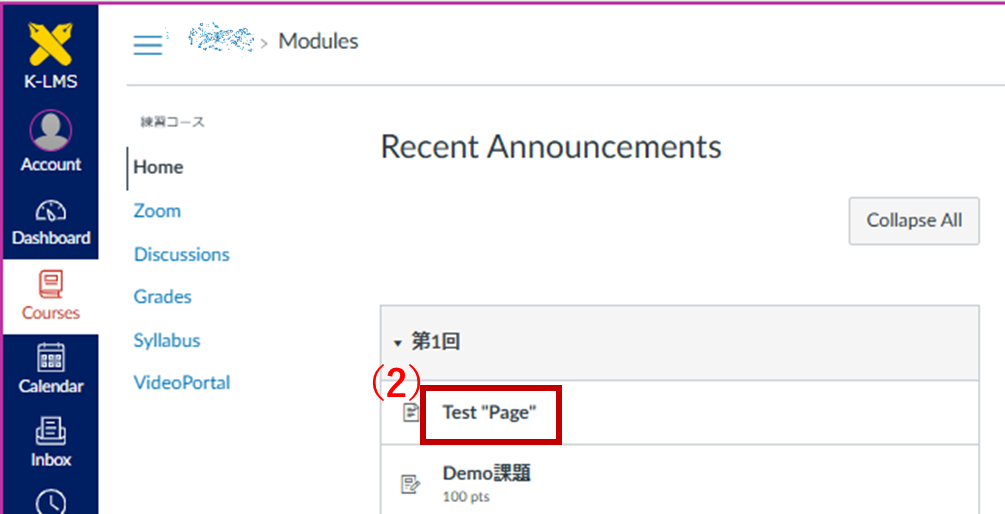 Click on (3) [End Attending Student View] to end the procedure.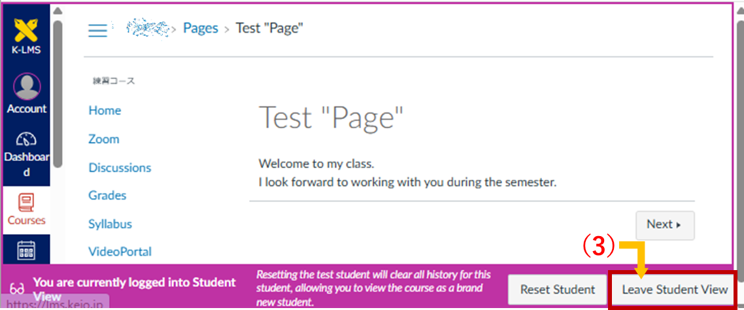 Distributing Educational Material and Displaying External Files
Click on the (1) + mark for each field that is to be added ([All], [First Time], etc.).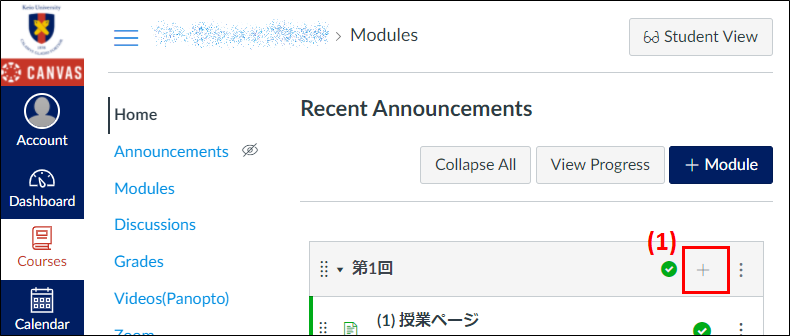 (2) Select the file, select (3) [New File(s)], select the file to be submitted with [ファイル選択] in (4), and then click on (5) [Add Item].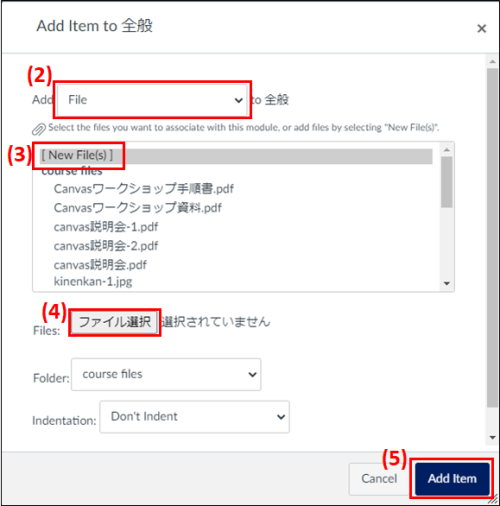 The file will be added as shown below.

Web Meeting (Zoom) Setup Method
It is possible to acquire links for all classes simply by making a single on-screen reservation for all classes with Canvas LMS.Due to the fact that they are hybrid classes, classes that have been recorded can be made available to students simply by setting the recordings that are to be released to [ON].
Topic Report
Managing and Checking Grades
The method of managing and checking grade for each course is explained here.
Click on [Grades] from the main menu.


[View]: It is possible to add filters to contents to be displayed based on the topic and quiz categories.
If [Unpublished Assignments] has been selected, only the quizzes with submitted answers will be extracted.
[Actions]: It is possible to output lists of students and marks from the [Operation] menu.
[3-dot Leader Menu Beside Topic Titles]: It is necessary to activate [Submit Grades] if marking results and comments are to be fed back to students.
[View]: Displays the filter menu selected from the menu.

Quiz (Confirming Attendance, Tests, Questionnaires, Etc.)
discussion
The discussion feature is similar to a bulletin board.The lecturer creates a topic, and the attending students post comments related to this.Attending students may also create topics depending on the course settings.
The Inbox
The Inbox is a messaging tool that can be used within Canvas LMS.This enables course members to communicate with each other.
Setting Joint Administrators of Classes
Setting joint administrators enables the authority to use certain class-related features to be assigned to faculty members and students.
About Resource Lists (Leganto)
Last-Modified: April 13, 2022
The content ends at this position.